Workforce Matters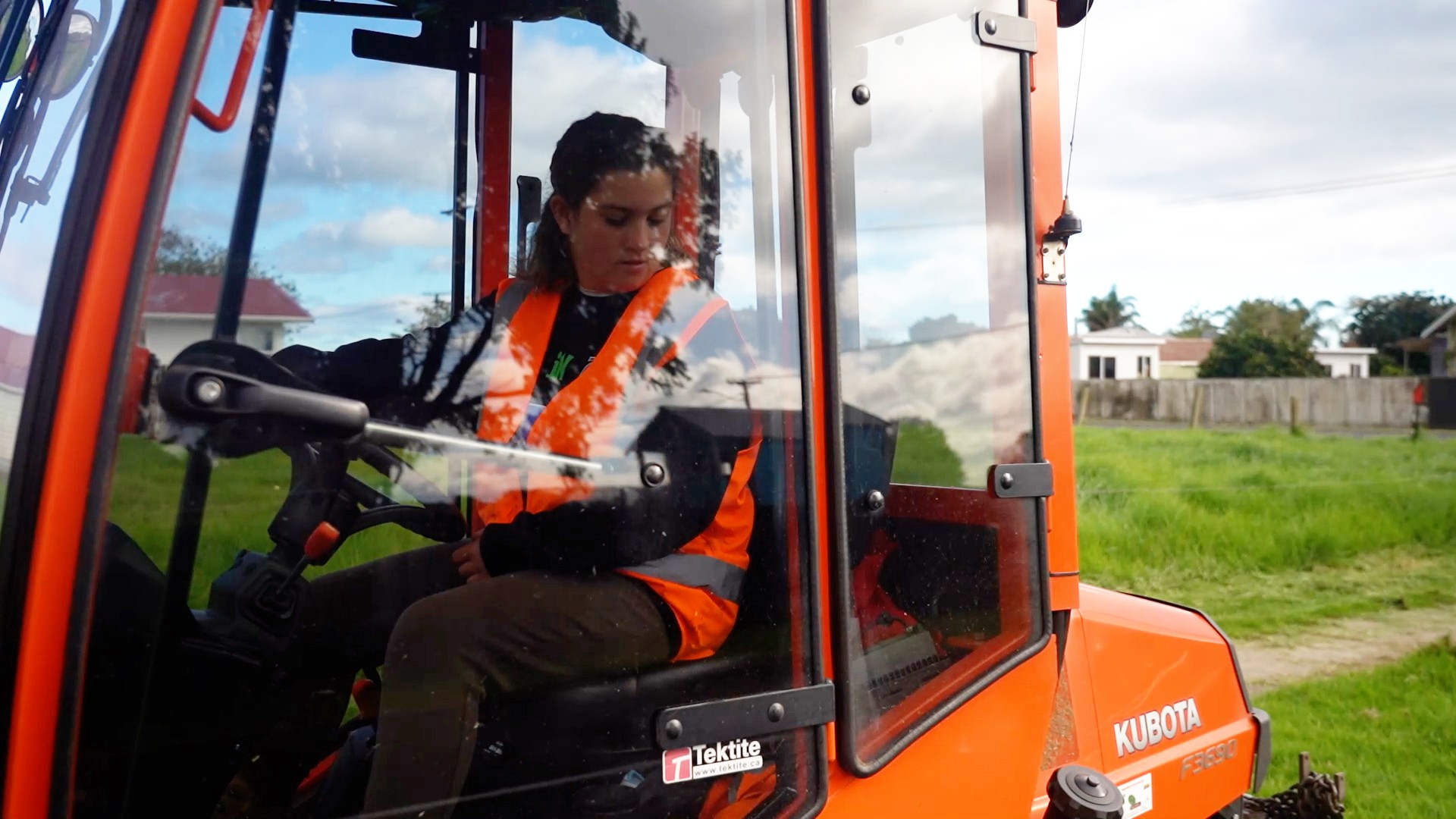 Parks and Reserves Cadet, Rhiannon, driving the mower
The role of our Workforce Development team
The role of our Workforce Development team is to 'join the dots' around workforce matters locally.
In 2014, Ōpōtiki stakeholders – government agencies, Iwi, community partners, industry leaders, education providers, and training providers – committed to a co-ordinated, locally-led workforce development approach now called Mahi Ora Ōpōtiki – Workforce Matters. The mission is "together growing good jobs and the workforce".
The Workforce Development Team has a dedicated workforce team to co-ordinate and support workforce stakeholders, plans, and activities. We work with local Iwi, employers, community, and government stakeholders to implement the Mahi Ora Ōpōtiki plan. We manage the Mayors' Taskforce for Jobs Community Resilience Programme, and oversee local Class 1 Driver Licensing initiatives. We support stakeholders to identify gaps and barriers in the workforce and help find solutions around, for example, Class 1 driver licensing, training, and skill development. We awhi employers who are creating job opportunities locally, and help people prepare for, gain, and retain these jobs.
Current Local Job Vacancies and Training Opportunities
We compile information about current local vacancies and training opportunities in fortnightly updates and send these to anyone who joins the subscription list. Some vacancy listings take you to external websites for more information and/or the application process, and others just provide contact details for your follow-up.
We also collate information about training available locally, and co-ordinate a programme of short course entry-level qualifications/tickets frequently in demand by our local industries and sectors.
Local Workforce Support and Assistance for Jobseekers
On this page you will find information on the local Ōpōtiki organisations and agencies that can assist and support job seekers. That includes if you're seeking work, training, or education, if you want help to get work ready, or would like help finding your pathway to employment.
Mayors' Taskforce for Jobs
The Ōpōtiki Mayors' Taskforce for Jobs Programme is a partnership between Councils and the national Mayors' Taskforce for Jobs, supported by the Ministry of Social Development. This is a national initiative to assist employers and job seekers. It offers subsidies, support and training.
Mayors' Taskforce for Jobs Subsidies
One initiative through the Mayors' Taskforce for Jobs is the availability of subsidies when local employers take on job seekers who have been unemployed, COVID displaced or made redundant, in insecure employment, or are disadvantaged in the labour market in some way. The funds can be applied to e.g., purchasing PPE or tools, or for important tickets or training. For more information workforce@odc.govt.nz.
Think Rural
Think Rural is an MSD and MTFJ joint initiative aimed at encouraging New Zealanders to rediscover the many opportunities and lifestyle perks of living and working rurally. You can visit the official website for more information, to read about what different rural areas around the country have to offer, and to register your interest in potentially relocating to a new area. The link to the Ōpōtiki District Think Rural page can be found here.

Check out the Ōpōtiki Think Rural video below!
Class 1 Driver Licensing - Growing the Ōpōtiki Community Driver Mentor Programme
In 2017, Ōpōtiki District Council established the Ōpōtiki Community Driver Mentoring Programme, in partnership with other funders, such as the Bay of Plenty Regional Council who provided the vehicles used in the programme. Eastbay REAP delivers this programme locally and almost 300 young people have achieved their Restricted or Full Licences to date. We're pleased to also be working with other local Class 1 Driving Instructors and Defensive Driving teachers as well. Working together, we can improve our rate of licenced drivers, and road safety. This is a free service that provides mentoring, practice drives in both Ōpōtiki and Whakatāne, a pre-drive practice immediately before your official test, and a vehicle to practice/sit your test in, if needed.
Pop into Eastbay REAP at 93 Church Street, Ōpōtiki, between the hours of 8:45am-12:15pm Monday to Friday, to see how they can help. Or, you can contact the Ōpōtiki mentor Nams directly at Nams@eastbayreap.org.nz.
Read more about our mahi!
We've created a series of informational pages that appeared in the Ōpōtiki Newspaper during the first half of 2023, covering a range of the mahi our team gets up to. You can view and download these below.
Want to receive regular updates or let us know you're looking for work?
You can use our online form to sign up to receive one or all of the following:
Our emails about Local Jobs and Training
Newsletters on the latest Workforce Development happenings
To let us know you're looking for work
To ask a specific question of the team