Water Supply
Our water supply activity provides for the environmentally safe collection, treatment and reticulation of potable water supply to certain parts of the community. A reliable and safe water supply is provided to approximately 5,750 of the Opotiki District population in Te Kaha, Opotiki, Hikutaia, Waiotahi Drifts and Ohiwa. Efficient, safe and sustainable water supplies are essential for the social, economic and environmental well-being of the District. Reliable drinking water supports public health outcomes, industry growth and development and community safety by way of providing fire fighting capacity in urban areas.
You can use our online map service to
See aerial photography of properties
Find the location of council-owned water, wastewater and stormwater pipes
Click on a property to view Land Information New Zealand (LINZ) data
Measurement and drawing tools are included.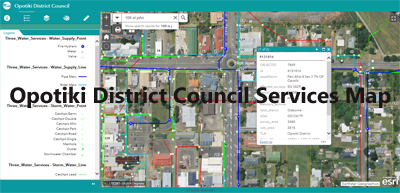 Commonly requested forms
Application for New Water Connection (PDF, 194KB)
Application for Remission of Water Consumption (PDF, 56KB)
Or complete an online application here: Application for Remission of Water Consumption
Application / Permit to Take Tankered Water from Opotiki District Water Supplies (PDF, 83KB)
Application Services Disconnections - Water and or Wastewater (PDF, 154KB)
Guidance
Water Meters - How to keep your water costs down (PDF, 494KB)