Urban Collection
Contents
Collection days
The kerbside collection for those on the urban collection east of the Waioeka Bridge is Tuesday.
The kerbside collection for those on the urban collection west of the Waioeka Bridge is Wednesday.
Please have your rubbish out by 8am.
The contractor now goes up one side of the street and down the other and the time they collect from your place may have changed, so everything needs to be out by 8am.
Please call us from 4pm on your collection day if your recycling and refuse is not collected and you haven't been left a notice telling you why.
Collection area
The urban collection area is from Paerata Ridge Road in the west to Stoney Creek Road in the east.
What you can put out for collection
Refuse: You can put out your 45Ltr wheeled refuse bin with the red lid each week.
Residual refuse will only be collected if it is in this bin. Only one bin will be emptied per household each week.
Recycling: Only two types of recycling get collected each week. You need to put out the two correct types of recycling in the correct crates, on the correct alternate weeks. Under the new system, paper and tin get put out one week and glass and plastic the next.
Note: Only the recycling material inside the crate will be picked up. Any recycling outside the crate will be left.
How to know what types of recycling to put out each week
Each set of crates and bin come with an information pamphlet and calendar. Before 1 July each year Council delivers a new pamphlet and calendar to every household in the collection area.
Copies of the calendars can be viewed online:
Kerbside Collection Calendar - Tuesday collection - East
Kerbside Collection Calendar - Wednesday collection - West
We have spare calendars at our office, or phone us on 07 3153030 and we'll send one out to you
We recommend you download the Antenno app and load your address as a favourite place to receive reminders straight to your phone each week on which recyclables to put out. The reminders are sent out on Monday mornings.
What you can (and can't) put in your recycling crates
Grey paper recycling crate: Newspapers, magazines, junk mail and cardboard.
Tips: Flatten all boxes and tie paper into a bundle.
Black tin recycling crate: You can recycle nearly all cans, including tin, aluminium, steel, paint and aerosol containers.
Tips: Empty contents and rinse clean. No aluminium foils and things made from flat sheets of foil like food trays.
Orange plastic recycling crate: Plastic bottles and plastic bags.
Tips: Lids off and clean please. No polystyrene or cling wrap.
Blue glass recycling crate: Bottles and jars.
Tips: Remove tops and rinse. Maximum 6 dozen bottles. No window glass.
Look after the crates and bin
Once you sign for them, you are responsible for them.
We're sure you don't want to have to pay for replacement crates and bins, so we advise you to look after them. You may want to write or paint your address on them - you could use some form of permanent marker or white paint etc. If you require replacements, these can be purchased from Council at 108 St John Street, Ōpōtiki.
The crates and bin are allocated to the property, so if you move to a new house you need to leave them behind.
How to get a replacement bin or crates
Replacement recycling crates and refuse bins can be purchased from Opotiki District Council at 108 St John Street, Opotiki.
The cost for a new recycling crate is $18.00 (includes the identifying sticker).
The cost for a new refuse bin (complete with wheels and lid) is $38.00 (includes the identifying sticker).
Lining your refuse bin is optional
If you want to put a liner in your refuse bin you can but you don't have to.
How to lock your refuse bin
This will stop dogs getting in to it.
To lock: With one hand brace the bin and with the other hand pull the black handle up to lock it in to place.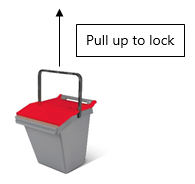 To unlock: Hold the bin steady with one hand and firmly push the handle directly down in a smooth vertical motion.
Stack your crates for the wind
To stop your paper or plastic recyclables blowing around on windy days stack your heavier crate on top e.g. tin crate on paper crate and glass crate on plastic crate.
Look after yourselves and our contractors
Anything dangerous, sharp or pointy should be wrapped in newspaper or cardboard before being put out for collection.
What are the numbers that are on my crates and bin?
These need to stay on the crates and bin and are unique identifiers based on the address of the property that the crates and bin have been allocated to. Please take a record in case the number gets worn off. Failure to display the unique bin number may result in your waste not being collected.
How can I make a difference to reduce household waste?
Grow your own
Buy in bulk
Make it from scratch - for example to avoid buying non-recyclable pots of yoghurt, make your own homemade yoghurt
Make simple switches for products that come in no packaging or recyclable packaging
Reuse glass or plastic containers
Mend and repair clothing and household items
Swap food and household items with families and friends.
There are many ways you can have a huge impact on how much waste you generate. It starts with being intentional and conscious with what you buy and consume.
How can I reduce my use of plastic?
There are loads of simple swaps and changes that every household can make to reduce their use of plastics and contribute to overall waste minimisation.
Make product packaging a factor in your purchasing decisions and aim to generate as little waste as possible with what your household consumes.
Choose products that come in glass jars, tins or cardboard rather than plastic. All are easily recyclable and you can repurpose glass jars for dry goods and food storage.
Switch to bar soap instead of shower gels
Switch to bamboo toothbrushes instead of plastic.
Keep reusable bags for groceries and produce in your car to avoid plastic bags
Buy in bulk using reusable or paper bags
Make your own or use refillable cleaning products
Bring your own containers / keep cup for takeaway foods or dine-in
If you are a big consumer of carbonated drinks, consider investing in a soda stream to make your own.
Avoid products where the items are individually wrapped (i.e. snack foods, teabags)