Tsunami Evacuation Information
We're living on a coastline where tsunami could occur. It's important to be prepared and know what the warning signs and alerting mechanisms are for a tsunami. Being able to determine these without the aid of the authorities can give you vital time to safely evacuate.
In the case of an impending tsunami, warning messages and signals can come from several sources - natural, official or unofficial.
Natural warnings
Natural warning signals may be the only warnings possible for local or regional source tsunami. Examples of natural warnings include:
Strong earthquake shaking (i.e. it is hard to stand up)
Weak, rolling earthquake shaking of unusually long duration (i.e. a minute or more)
Out of ordinary sea behaviour, such as unusual and sudden sea level fall or rise
The sea making loud and unusual noises, especially roaring like a jet engine.
When experiencing any of the above go immediately to high ground or, if the surrounding area is flat, go as far inland as possible, evacuating all coastal areas or, where present, all evacuation zones.
The first wave may arrive within minutes. Once away from the water, listen to a local radio for information from local civil defence about further action you should take. Do not return until given the all clear.
Even if you do not feel shaking, if you learn that an area has experienced a large earthquake that could send a tsunami in your direction, listen to a local radio or television station for information from the local civil defence about action you should take. Depending on the location of the earthquake, you may have a number of hours in which to take appropriate action.
Official warnings
An official warning from Civil Defence Emergency Management may be given through radio or television broadcasts and emergency services.
Warning may also be through a mobile stinger siren mounted on a vehicle, telephone, emergency mobile alert, loud hailer or other local arrangements.
You may receive warnings from one, or several sources. Respond to the first source; do not wait for more messages before you act.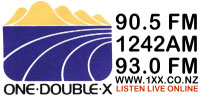 Tsunami Evacuation Information (for Eastern Bay of Plenty)
This booklet provides you with information about tsunami and how you can prepare yourself and your family should a tsunami occur.
Inside the Eastern Bay of Plenty Tsunami Evacuation Information booklet (PDF, 2.98MB) you will find the following information on Tsunamis - how they are generated and how to know when to evacuate, Eastern Bay of Plenty evacuation maps, a Household Emergency checklist form and a Household Emergency Plan form.
You can find more information on Tsunami on the Bay of Plenty Civil Defence website.
Tsunami Evacuation maps for Ōpōtiki