Alert Information
Natural alerts
If you are at the coast and experience any of the following:
Feel a strong earthquake that makes it hard to stand up, or a weak rolling earthquake that lasts a minute or more
See a sudden rise or fall in sea level
Hear loud and unusual noises from the sea
Do not wait for an offical alert. If an earthquake is long or strong get gone.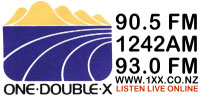 Listen to your radio
In an emergency or Civil Defence event, we recommend you tune into the 1XX radio station to receive up to date messages and information.
Emergency Mobile Alert
Emergency Mobile Alerts are messages about emergencies sent by authorised emergency agencies to capable mobile phones. Full information on Emergency Mobile Alerts can be found on the Ministry of Civil Defence and Emergency Management website.
Red Cross Hazard App
The Red Cross Hazard App is a free, comprehensive and convenient way to be ready for emergencies. The app is a vital tool to help you get through emergencies and get disaster alerts.